The Southside Area Health Education Center
The Southern Virginia Higher Education Center (SVHEC) is home to one of eight Virginia Area Health Education Centers (AHECs). Through partnerships with the Virginia Health Workforce Development Authority (VHWDA), the AHECs are able to utilize a multi-stakeholder collaborative model to identify, recruit and retain highly qualified health professionals. The ultimate goal is the successful creation and improvement of a competitive health workforce throughout the Commonwealth.
The Virginia AHECs have been instrumental in developing effective programs to address specific health care needs within their communities. This includes implementing health careers recruitment programs; identifying health workforce distribution issues; sponsoring continuing education programs; identifying career opportunities for students, displaced or unemployed adults; providing interpreter training services; and connecting students with internships and preceptorships. Through community-based inter-professional training programs, AHECs identify, motivate, recruit, train and retain a health care workforce committed to underserved populations.
The Southside Virginia AHEC (SVAHEC) serves 15 counties: Amelia, Brunswick, Buckingham, Charlotte, Cumberland, Dinwiddie, Greensville, Halifax, Lunenburg, Mecklenburg, Nottoway, Prince Edward, Prince George, Surry, and Sussex, and the cities of Emporia, Hopewell, and Petersburg. The SVAHEC partners with several academic institutions including Southside Virginia Community College, Danville Community College, Old Dominion University, and Longwood University. In addition, the SVAHEC collaborates with local schools and community health agencies such as Sentara Halifax Regional Hospital to support diverse health-related events.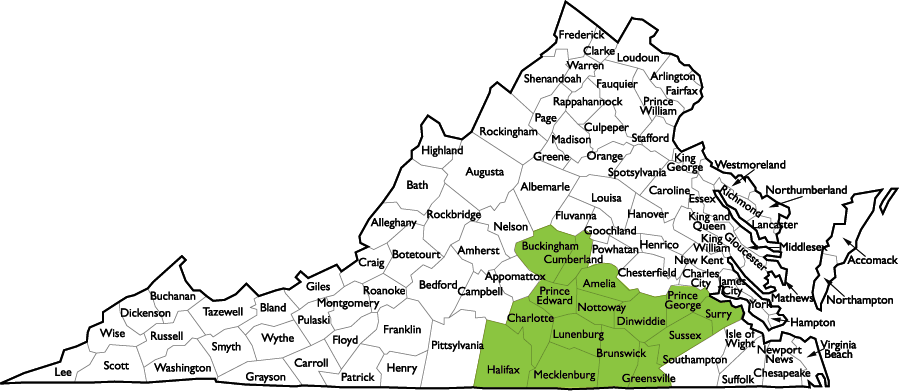 The SVAHEC is hosted by the Southern Virginia Higher Education Center (SVHEC), in conjunction with the Center of Nursing Excellence, located in South Boston, Virginia. The SVHEC works to expand the health care workforce through resume building, job placement and the promotion of health careers such as nursing, medication/nurse aides, phlebotomy and more. The SVHEC offers interactive health care skills experiences through tours of the Center of Nursing Excellence, and participation in health, career, and college fairs for high school and other pre-college level students.
Through the SVHEC's American Heart Association Emergency Cardiovascular Care course, community members can earn certifications in Basic Life Support (BLS), Advanced Cardiovascular Life Support (ACLS) and Pediatric Advanced Life Support (PALS). In addition, the SVHEC:
disseminates information on health care issues,
participates in community-based research,
responds to local health needs such as disasters, hunger and health awareness and
participates in inter-professional relationships to tackle current and emerging health issues such as cardiovascular health and substance abuse.
The Southside Virginia AHEC Program is funded by the U.S. Department of Health and Human Services, Health Resources and Services Administration, through grant funding to the Virginia Health Workforce Development Authority.