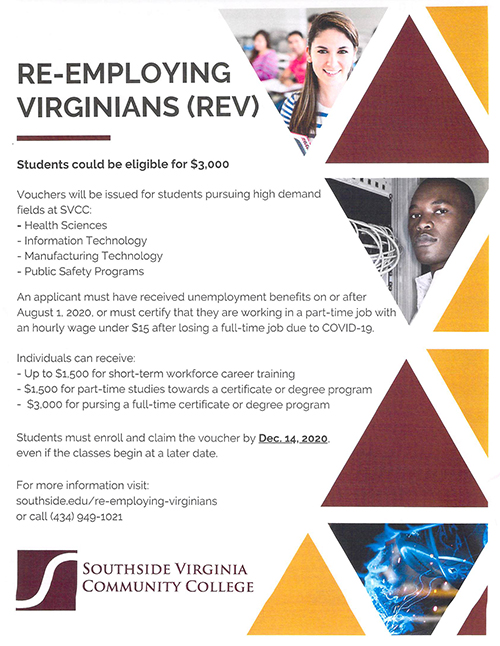 Attend select Danville and Southside VA Community College programs at no cost.
Through the Re-Employing Virginians (REV) initiative, Governor Ralph Northam is giving Virginia's Community Colleges $27 million to help current and future students cover the costs of tuition and fees in fields that will lead to careers in their community. REV provides scholarships to eligible individuals who enroll in a community college program in five essential industries: healthcare, information technology, skilled trades, public safety, and early childhood education.
SVHEC partners, Danville Community College and Southside VA Community College, provide a wide range of REV-eligible programs including nursing, precision machining, web design, and plumbing. Eligible students can receive up to $1,500 for short-term workforce training and part-time studies and up to $3,000 for full-time certificate or degree programs.
Students must apply by December 14, 2020.
For more information contact the Community Colleges Office at 434-572-5453 or visit
www.danville.edu/rev
www.southside.edu/re-employing-virginians