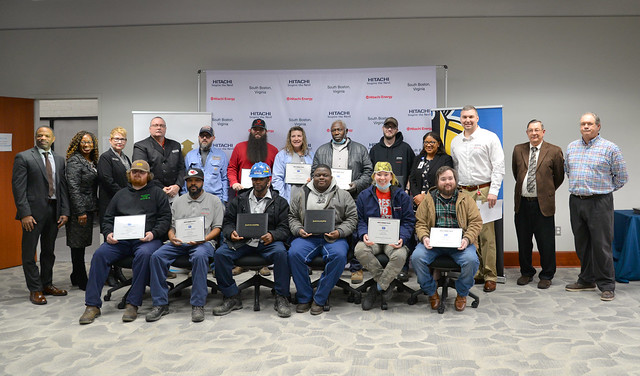 Release by Faith O'Neil
Danville Community College Office of Public Relations & Marketing

Hitachi Energy, in partnership with Danville Community College (DCC) and the Southern Virginia Higher Education Center (SVHEC), held a completion ceremony on January 23 for 19 employees who participated in Industrial Maintenance Mechanic Training as part of their on-going professional development.
"Hitachi Energy is committed to the personal and professional development of all employees," said Ryland Clark, Community Relations Manager, Hitachi Energy. "Having strong partnerships in the Southern Virginia region is vital for the continued growth and development of our workforce. We will continue to strengthen our partnerships and expand program offerings for our employees as part of our long-term commitment to job creation and workforce development in the county and the region."
In summer 2021, DCC partnered with Hitachi Energy and the SVHEC in South Boston to create a customized training pilot program that allowed the manufacturer to begin upskilling their workforce in the areas of Mechanical Maintenance, Electrical Power & Control, and more. With the successful completion of this pilot in December 2022, the ceremony celebrated the achievements of the 19 participants with their family, friends, and co-workers.
"We're so proud of this first cohort of Hitachi Energy employees," said Dr. Jerry Wallace, president at Danville Community College. "Bringing this kind of customized training to our industry partners is a win for everyone involved and we hope to continue to grow and expand this partnership with Hitachi Energy and the SVHEC as we introduce new cohorts."
The training, provided by DCC and hosted at the SVHEC, covers a variety of safety and health topics, as well as National Center for Construction Education and Research (NCCER) credentials, up to Level 3. Each participant received a certificate of completion that details the training they received.
"The SVHEC is honored to join with Hitachi Energy and DCC in this important workforce development project," said Betty Adams, SVHEC Executive Director. "We salute the Hitachi Energy students for their commitment and achievement and look forward to hosting future cohorts at the SVHEC. We are grateful to DCC for partnering with us on this important workforce training initiative."
For more information about customized training for industry employers, call 434-797-8448.