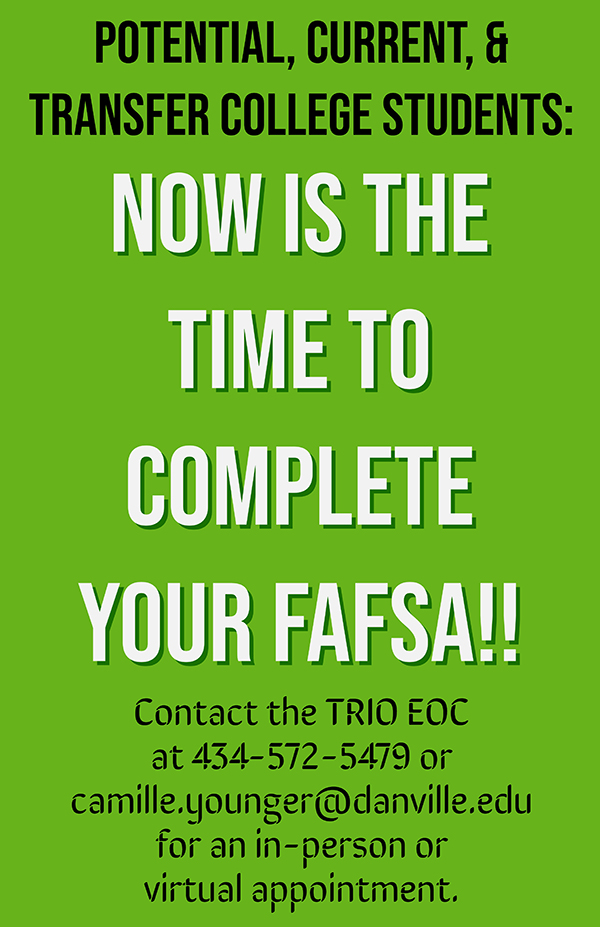 The 2021-2022 Free Application for Federal Student Aid (FAFSA) is live, and potential, current, or transfer college students are urged to complete the form now. The Southern Piedmont Educational Opportunities Center (EOC) provides free assistance to individuals who have questions or who need assistance completing their FAFSA.
In-person and virtual appointments are available, and may be scheduled by calling 434-572-5479 or by emailing EOC representative Camille Younger at .
FAFSA is used to determine student financial aid including Pell grant, work study, and loans, and is often the first step in applying for scholarships.
Current college students, and individuals who anticipate attending college in 2021, are encouraged to apply now.
Students will need the following items complete their FAFSA filing:
FSA ID (if already registered)
Social Security Number
Date of Birth
Email Address
Driver's License or Photo ID
Student's 2019 Federal Taxes and W2s
Dependent students must also bring the following information for their parents:
FSA ID (if already registered)
Social Security Number
Date of Birth
Date of parent's marriage/separation/divorce/widowing
Email Address
2019 Federal Taxes and W2s