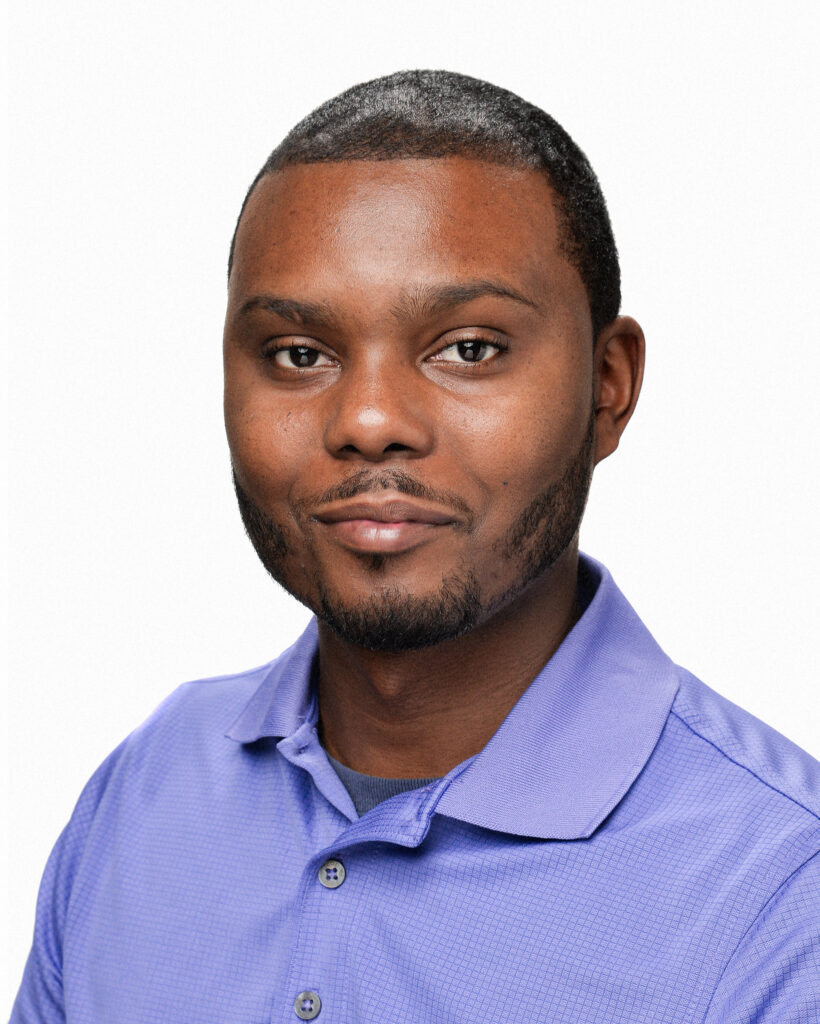 When students at Sydnor Jennings Elementary School returned to school this fall, they were greeted by a familiar face in a new position. Mr. Andrew Barksdale, Jr., has been the school's head custodian for several years, but this year, students are getting to know him as the new Local Area Network (LAN)/computer lab manager. According to Sydnor-Jennings principal Linda Owen, Barksdale's journey from custodian to IT is what happens when ambition and opportunity meet.
Barksdale, Jr. began his career with Halifax County Public Schools as a custodian at Cluster Springs Elementary School. After about four years he moved to Sinai Elementary School, and in 2019 moved to Sydnor-Jennings as head custodian. While still working at Sinai Elementary, Barksdale, Jr., received information on the SVHEC's IT Academy from his father, Andrew Barksdale, Sr., who was also a student in the program. "I looked into the program and thought this might be something I want to do," he said.
Barksdale, Jr., pursued enrollment but faced an obstacle when he didn't earn a passing score on the WorkKeys Assessment that students must take before being accepted into the IT Academy's A+/Server+ training. Meagan Owen, SVHEC Coordinator of Learner Success & Engagement, advised Barksdale, Jr. on areas to work on to improve his score. "I went back and looked over those things and I said I'm going to try this test one more time." With the re-test, Barksdale, Jr., found success, earning a passing score and gaining acceptance into the IT Academy.
"Going into the program I didn't know how I was going to pay for it," Barksdale, Jr. stated. "Fortunately, they had different programs such as WIA. I was able to sign up for that, and was fully awarded a scholarship for the program. I didn't have to pay anything for the program."
As soon as Barksdale, Jr. stepped into the IT Academy's training space he knew he was home. "When I first stepped into the datacenter I was like 'WOW.' I was amazed at all the computers, the repair center, the servers, the workstations…I knew I was going to enjoy the program and have a good time."
But just as Barksdale, Jr's training was getting underway in spring 2020, the COVID-19 pandemic hit and the SVHEC closed its campus for several months. This presented Barksdale, Jr. with another barrier as his hands-on IT classes were moved online. "It was a little challenging because you weren't in class and you didn't see the teacher face-to-face. But even though we went virtual, we still had the proper equipment and everything we needed to be successful in class. Eventually we did get to come back to the building and resume our hands-on training," he said.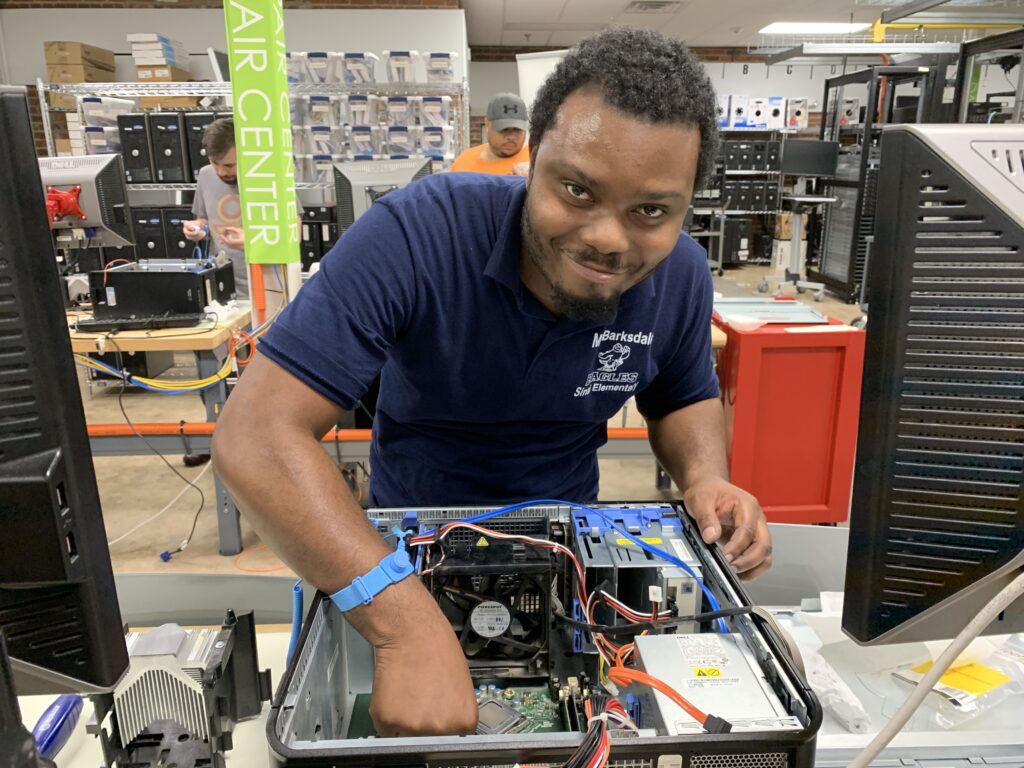 With fierce determination, Barksdale, Jr., overcame one obstacle after another, and successfully completed the ITA's A+/Server+ training program fall 2020. He was recognized during the SVHEC's Virtual Workforce Training Completion Ceremony held on June 26, 2021.
It was during the virtual ceremony that Linda Owen, principal at Sydnor-Jennings Elementary and Southern VA Higher Education Foundation board member, saw Barksdale, Jr. being recognized as an IT Academy completer. It just so happened that Sydnor-Jennings' Local Area Network Manager/computer lab manager had recently retired. Seeing that Barksdale, Jr., now had an IT skillset, Owen encouraged him to apply for the position. "I thank Mrs. Owen for giving me the opportunity and for thinking enough of me to say 'I'm going to interview him again. I know he's a good custodian but I know he can do so much more.'"
Owen recalled that when she initially interviewed Barksdale, Jr., for the head custodian's position she recognized there was something special about him. "I realized very quickly that he was destined for more."
Barksdale Jr., applied for the LAN manager's position, interviewed, and was eventually selected as the top candidate. He credits his training at the IT Academy for giving him the knowledge and skills he needed to transition to an IT career. "A lot of the things I know now is because of the program and because I was able to put my hands on it," he stated.
"He is doing an excellent job, and that's really a testimony to how well this program prepared him," said Owen
For Owen, Barksdale, Jr.'s story is the perfect example of what happens when ambition and opportunity meet. "When local people, right here in the community, have the opportunity, the finances, and the ambition to do so, they can come forward, be successful, and move up the ladder of success," she said.
For her, one of the most exciting aspects of Andrew Barksdale Jr.'s story is that her students at Sydnor-Jennings have been able to see his career evolve. "It was tremendous when my students came back in the building this year, and saw him in a different role. Not only is he a success story for his family, but also for the boys and young ladies in our building. They can see that when you get an education you can move up and get different jobs, and its truly an inspiration."
Barksdale, Jr. is excited about his new role, and what the future holds. "I enjoy what I do. I'm looking forward to moving forward. This isn't the last step; I'm going to go back and get into some more programs at the Southern Virginia Higher Education Center. I look forward to doing that and working with my students at Sydnor-Jennings."