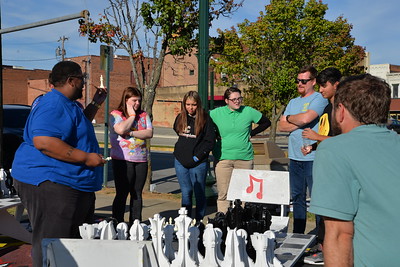 On October 11th, SVHEC and The Community Colleges Office co-hosted two "Learn to Play Chess" lessons for students, staff, partners, and community members. The sessions were held in downtown South Boston's Better Block Parklet as a way of introducing the SVHEC and South Boston communities to downtown's new addition. Experienced chess players Dan Shaughnessy and Anthony Womack volunteered their time to teach attendees the basics of playing chess.    
The Better Block parklet is located in the public parking lot adjacent to Factory Street Brewing and was funded by a Microsoft ChangeX grant. The project came together through a collaborative effort between SVHEC, Factory Street Brewing Company, and the Town of South Boston.  
SVHEC's product design & development unit, ProductWorks, secured and prepared the materials to build the parklet, and students in the Career Tech Academy assisted with painting and assembly. Students also used the knowledge and skills gained in class to 3-D print chess and checker pieces for the parklet's game boards.  
Local artist Mark Anthony painted an abstract musically themed mural on the section of the parking lot designated for the parklet. The mural is a colorful addition to the parklet and sends a visual cue that this is an intentional space for the community.
"This project was inspired by a key initiative from the Halifax County Community Strategic Plan coupled with a desire to engage Career Tech Academy students in a public service project, " said SVHEC Executive Director Dr. Betty Adams. "Citizen feedback on the plan indicated a desire for more "quality of place" improvements – those features of physical environment and qualities of life that make a location a desirable, competitive, and economically vibrant place to live. The ChangeX Community Challenge provided the resources for us to establish a "parklet," which we hope will serve SVHEC publics, Factory Street customers, and the general public. Anyone who wants to sit, take a break, or play a game of checkers or chess is encouraged to take advantage of this unique space."