Microsoft Corporation establishes the Microsoft Datacenter Academy Scholars Program with a donation to the Southern Virginia Higher Education Foundation (SVHEF).
The new program provides scholarship funds for individuals in under-represented groups pursuing training through the SVHEC's IT Academy (ITA).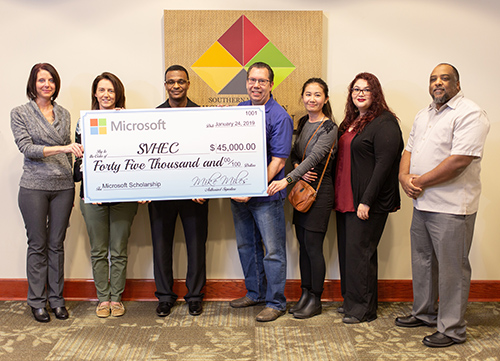 "Microsoft understands the importance of being an active, contributing member of the community. One of the ways we contribute to the community in Southern Virginia is through support for workforce training that helps community members prepare for roles in IT and STEM-related fields," said Anthony Putorek, Microsoft Senior Lead Workforce Development Program Manager.
"The Microsoft Datacenter Academy was started in partnership with SVHEC and Southside Virginia Community College. The program has been so successful that we are replicating it with other education partners around the globe. It has been exciting to see this locally-developed program have global impact."
"Microsoft has scored the economic equivalent of a hat trick for southern Virginia," said Dr. Betty Adams, Executive Director of the Southern Virginia Higher Education Center. "Microsoft brought jobs to the region by locating and growing the Boydton datacenter and helped establish the IT Academy where citizens can learn the skills to qualify for these well-paying jobs. Now they're expanding access to training and, therefore jobs, through the Scholars Program. This is what it means to be a community partner."
The Microsoft Datacenter Academy Scholars Program provides individuals from underrepresented populations with scholarships to fully fund their IT training—including foundational and advanced coursework. The program also provides opportunities for job shadowing and internships.
"What Microsoft is doing in this community is transformational. We're honored to partner with them and the Southern Virginia Higher Education Center to increase access to educational opportunities," said Katrina Powell, Executive Director of the Southern Virginia Higher Education Foundation.
The first Microsoft Scholars began classes on January 7, 2019 and were recognized at a reception on February 26. Trainees are learning a wide range of IT skills, including troubleshooting, hardware repair, and server configuration, as they pursue CompTIA A+ and Server+ certification. They must earn at least one certification to remain in the program.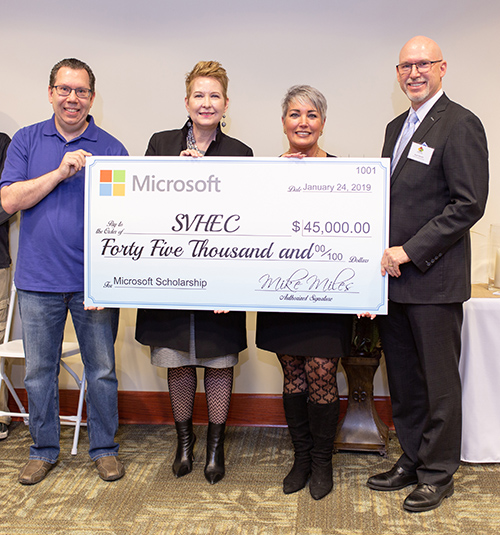 "The Microsoft scholarship has given me peace of mind. I don't have to worry about having a student loan or if I'll have to pay for tuition with my credit card. The scholarship gave me freedom to really enjoy the class without having anything hanging over my head," said scholarship recipient Angelica Alves.
"I worked in the IT field for over 20 years, and I enrolled in the IT Academy to add to my experience and have some certifications under my belt. I wouldn't have been able to do it without the scholarship," said Jennifer Epps.
Since Microsoft opened its Boydton, VA datacenter nearly 10 years ago, the company has demonstrated a commitment to growing the pipeline of IT workers and increasing diversity in the IT field by removing traditional barriers to education. Datacenter officials have played an instrumental role in growing the SVHEC IT Academy, lending their time and expertise to speak to classes, host tours, and participate in ITA job fairs.
"The support we provide doesn't have to be paid back to Microsoft—in other words, students aren't obligated to take a job at Microsoft. We want to build skills that you can take anywhere and do any kind of work. That's part of our contribution to the community," Putorek stated.
ITA instructors work closely with leaders at the datacenter to ensure the training program's curriculum and labs align with the realities of the workplace. With a sixth datacenter expansion in Southern Virginia recently announced, a pipeline of skilled workers is critical for the datacenter's continued growth. Microsoft is equally excited to help prepare future IT workers for jobs with employers other than Microsoft.
"The impact of a full scholarship to the IT Academy can be life-changing," said ITA program coordinator/instructor Kelly Shotwell. "Individuals who may not have the means to pay for training can suddenly attend without the worry of finding the money. Microsoft continues to support its scholars through internships that provide on-the-job training and a track to possible fulltime employment," she continued.
To be considered for the Microsoft Datacenter Academy Scholars Program, individuals must be enrolled in the Southern Virginia Higher Education Center's IT Academy and complete the SVHEF Scholarship Application. For more information call the Southern Virginia Higher Education Foundation at 434-572-5442.