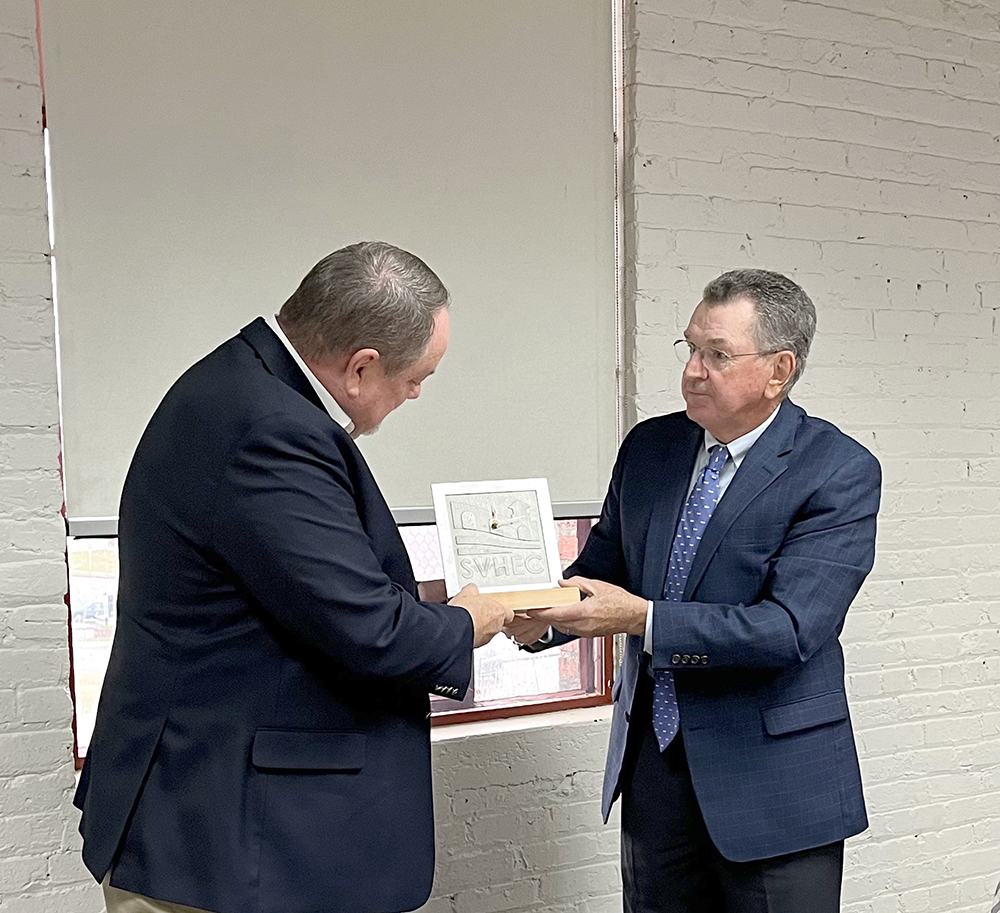 At its recent meeting, the Southern Virginia Higher Education Center's (SVHEC) Board of Trustees recognized outgoing board member, John Lee. Lee is the president and CEO of Mecklenburg Electric Cooperative and Empower Broadband and has served on the SVHEC's board since March 2018.
SVHEC Board Chair Dennis Witt stated, "He's a humanitarian who's spent most of his life working to improve the quality of life for citizens and economic growth in his area and in the state of Virginia and beyond." He presented Lee with a custom clock produced by the Southern Virginia Higher Education Center's ProductWorks division—the Commonwealth's only single source location for product design and development services.
Lee has been a passionate supporter of, and advocate for, the SVHEC during his board tenure. He often described the Center as "Southern Virginia's best kept secret," and worked diligently to change that perception. One of his most impactful efforts was spearheading an effort to raise awareness of the Center and its programs through a comprehensive marketing and branding study. SVHEC Executive Director Dr. Betty Adams calls the study "one of the most significant contributions to the SVHEC."
When SVHEC launched the Work-Based Learning component of its high school focused Career Tech Academy, Lee was an early supporter. He quickly signed on as an employer partner, and provided internship opportunities to several CTA students. Through work experiences at Mecklenburg Electric Cooperative and Empower Broadband, CTA students have gained invaluable IT experience and workplace skills that will last a lifetime.
In his remarks to the board Lee stated, "I've enjoyed working with all of you and getting to know you. I implore you to come in this room, every time you meet, and put everything else aside. Have an open mind and objectively vote on things that will advance this Center. This place right here can make a difference in people's lives."