In response to the growing need for mental health support on college campuses, the Southern Virginia Higher Education Center (SVHEC) has partnered with TimelyCare to offer SVHEC Workforce training students free access to mental health support and basic needs assistance. With 300 college partners, TimelyCare is higher education's most trusted provider for health and well-being resources.
Students enrolled in an SVHEC Workforce Training program (HVAC, IT Academy, and Welding) now have free 24/7 access to on-demand virtual care. Using TimelyCare on their phone or other device, SVHEC workforce training students can access a range of virtual care options from licensed counselors at no cost and without healthcare insurance. Available services include:
On-demand mental health and emotional support (TalkNow)
Appointment-based mental health counseling (up to 3 sessions each academic year)
Basic Needs assistance
Care navigation
Peer support community
Digital self-care content
"The SVHEC is committed to helping students achieve their educational goals. Health and well-being challenges, however, are increasingly standing in the way of student progress. We, therefore, are grateful to be able to offer the convenient, confidential, and vital support of TimelyCare to our Workforce Training students," said Dr. Betty Adams, SVHEC executive director.
She continued, "I would be remiss if I did not also share that our ability to offer TimelyCare could not have been possible without the help of Danville Community College (DCC). By allowing us to piggyback on their TimelyCare contract, we were able to secure an affordable price point. We are most grateful for DCC's collaborative spirit."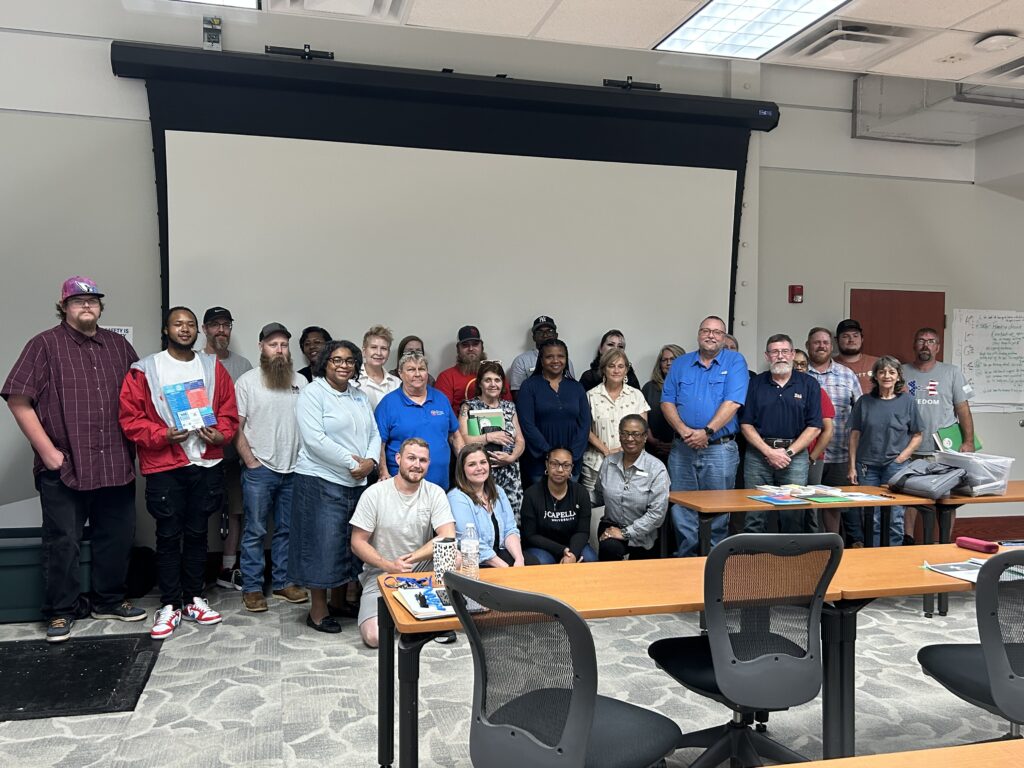 TimelyCare CEO and co-founder Luke Hejl stated, "When it comes to supporting student outcomes, the need for equitable, on-demand access to care has never been more important. TimelyCare enables colleges and universities to expand on-campus resources and transform the way students receive care through agency, speed, and freedom of choice that they've come to expect in their everyday lives. TimelyCare is proud to serve as an extension of SVHEC's resources to create a comprehensive, whole-student care solution that empowers students to seek care in a way that feels comfortable and convenient for them."
To better identify and support students who may be in need of mental health support, SVHEC staff across all departments and job functions recently completed Mental Health First Aid training. Partnering with Southside Behavioral Health, staff completed 10 hours of training encompassing online modules and a full-day of in-person training.
Mental Health First Aid is an internationally recognized training that teaches participants how to identify, understand, and respond to signs of mental illness and substance use disorders. The training provides the skills needed to provide initial assistance and support similar to the first aid that may be provided to an individual experiencing a physical illness or injury.
Students on SVHEC's campus who are not eligible for TimelyCare services are encouraged to contact SVHEC's Office of Learner Success & Engagement for guidance or link to local resources at www.svhec.org/timelycare.
About TimelyCare
TimelyCare is higher education's most trusted virtual health and well-being provider, serving more than two million students at 300 campuses nationwide. Founded in 2017, TimelyCare pioneered the first telehealth solution built exclusively for higher education, with a mission to improve the health and well-being of college students by making virtual medical and mental health care accessible anytime, anywhere. Today its comprehensive suite of services – including mental health counseling, on-demand emotional support, medical care, psychiatric care, health coaching, basic needs assistance, faculty and staff guidance, peer support and self-guided wellness tools – expands the breadth of campus resources and empowers students to be well and thrive.