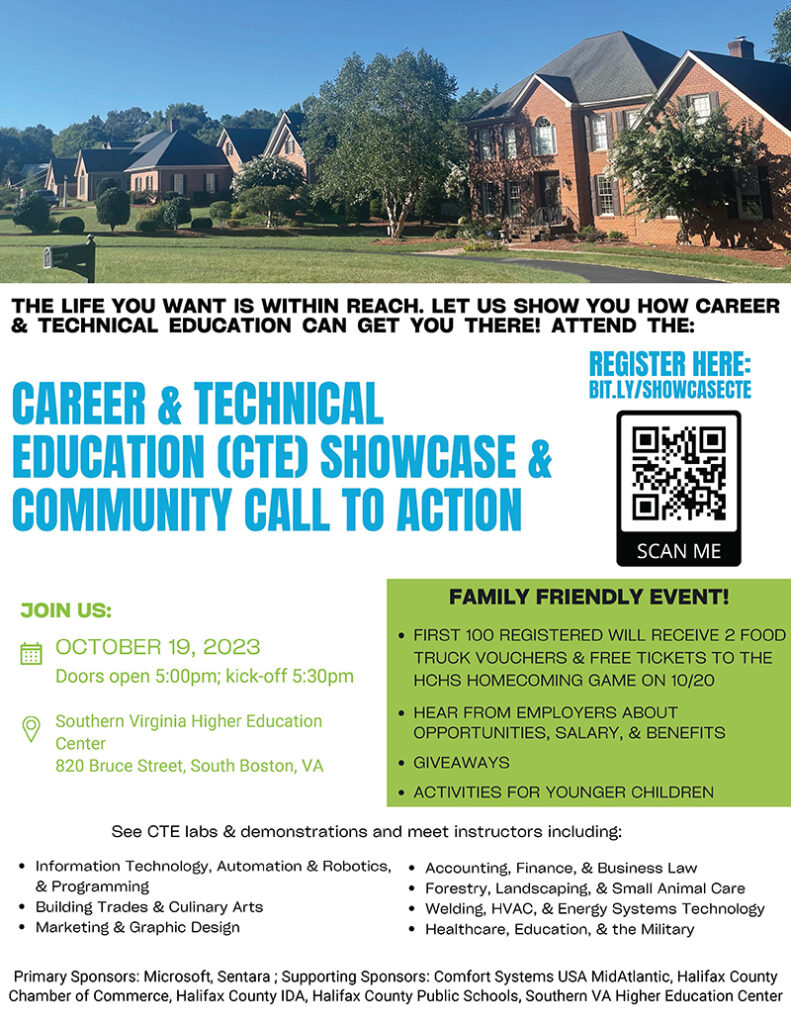 Careers in technical fields (also called the trades or hands-on careers) are in high-demand across southern Virginia. These positions pay competitive salaries and benefits, and provide opportunities for career advancement. Job openings exist today, and are expected to grow over the next ten years.
To highlight technical careers and the training programs that prepare students for them, Halifax County's education and business communities have partnered to host the Career & Technical Education (CTE) Showcase & Community Call to Action on Oct.19th. The CTE Showcase will be held on the Southern VA Higher Education Center's campus (820 Bruce Street, South Boston, VA). Doors will open at 5:00pm, and the event will kick-off at 5:30pm.
The CTE Showcase & Community Call to Action is open to the community with something for the whole family to enjoy. Attendees will hear from employers about career opportunities, tour labs, and learn more about high school and adult training programs that prepare students for technical careers. The event is focused on exposing the community, and particularly parents and caregivers, to the wide variety of technical career opportunities available in Southern Virginia.
During the CTE Showcase & Community Call to Action, the Prizery will host activities for younger children, food trucks will be on site, and there will be opportunities to win giveaways including furniture from Gloster, passes to VIR, a gift certificate to Molasses Grill and a Microsoft Surface laptop. The first 100 people to register for the CTE Showcase will receive 2 vouchers to the on-site food trucks and tickets to Halifax County's Homecoming football game.