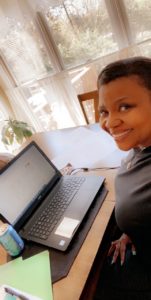 SVHEC staff members have a new normal as they adjust to teleworking because of COVID-19's spread.
On Sunday, March 22nd, SVHEC staff received an emergency notification that the agency would be closing until further notice because of confirmed COVID-19 cases in surrounding counties. While a skeleton crew would maintain minimum operations, the majority of staff immediately began to telework.

SVHEC staffers quickly made adjustments as they turned kitchen tables into desks, and online meetings replaced the conference room. For some, there were newfound challenges like working with young children at home or battling for bandwidth.

Meagan Owen, Coordinator of Learner Success and Engagement stated, "I'm an early riser and my most productive time is before the sun comes up. I break my day up to get in a few hours before my children get up and a few while they nap. I can distract them with activities that don't require my guidance for a few hours to participate in video meetings. It's so new and we're just figuring out what works one day at a time."
Institutional Effectiveness & Grants Administrator, Catherine Stevens, found internet connectivity especially challenging. "We have two teleworkers and two college students in the house, and we live in an area with no fiber connectivity," she said.
For an agency built on partnerships and collaboration like the SVHEC, working alone or with virtual contact is unfamiliar territory. "I really miss seeing and talking to my colleagues," said IT Academy trainer Scottie Clowdis.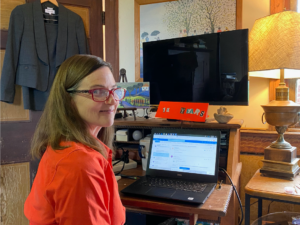 "I also really miss my co-workers. Their smiles always brighten up the day," Stevens stated.

In trying to make the best of a challenging situation, SVHEC staff have discovered a few newfound benefits.
"I'm enjoying being able to exercise," said SVHEC Executive Director, Dr. Betty Adams. "Because I live in the country, I can walk for miles and not see anybody — though I do have to dodge cars!"
"I'm enjoying not having to deal with the traffic to and from work and also being able to look out the window at the green fields, my garden, and watch the birds and even a couple of wild turkeys feeding. The quiet helps me to concentrate more and I'm finding that I am able to do a better job at the items I have been working on," said Mechatronics Program Leader Ricky Gordon.
Now in the fourth week of teleworking, SVHEC staff members have settled into a new normal, but look forward to putting the COVID-19 pandemic behind them. "I can't wait to get back to what we considered normal," Stevens said.
Clowdis agreed saying, "I can't wait to get back to face-to-face interaction with trainees in the classroom and hands-on labs."

Perhaps Dr. Adams summed it up best when she said, "When this is over, I can't wait to see the buildings come back to life with activity and the parking lot full!"