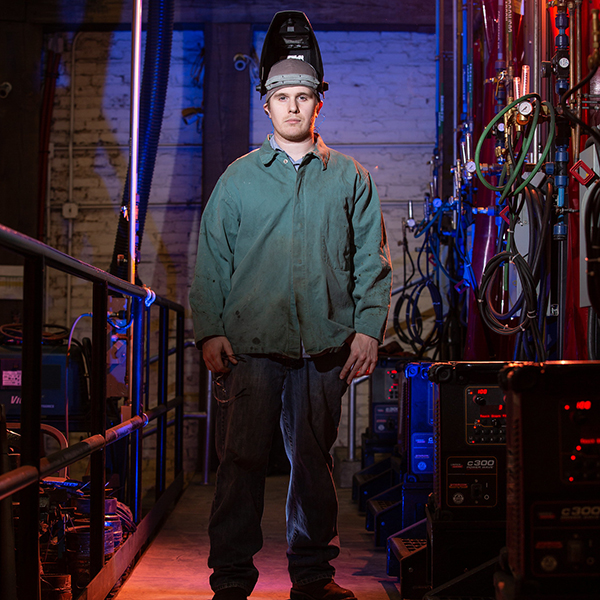 A radio ad sparked an interest in welding and now Harrison Parker makes sparks fly all across the country as a certified welder, enjoying an in-demand career with great wages.
"I always had an interest in learning how to weld and wanted to learn a skill with my hands," said Parker. "I heard an ad on the radio for the Southern Virginia Higher Education Center's welding program and thought why not? When I first got into the program, I literally knew nothing about welding or really anything that it involved. All I knew is that I was interested in learning more and was willing to put the time and effort into it."

Welding@SVHEC is a hands-on, 10-month training program providing trainees with instruction in MIG, TIG, stick, and pipe welding. No prior welding experience is necessary for individuals to successfully complete the program and earn nationally recognized certification. Welding@SVHEC emphasizes hands-on instruction, and is taught by experienced, certified welders like program leader Geoff Vaughan and instructors Marque Medley, Kenny Conner, and Karen Hackney.

"When I started the course, I was kind of nervous not knowing a thing about welding, but Marque and Kenny were so easy to work with and to learn from. I really had no problem asking questions and for advice on how to do things," Parker said. "During class I learned how to operate a grinder, torch and plasma cutter, and I got great first-hand experience and instruction in stick and MIG and TIG welding on both plate and pipe. To me it was very satisfying to learn a skill not many can do, and to get better day by day made it all worth the while."
Individuals who successfully complete the Welding@SVHEC program have an opportunity to earn nationally recognized welding certification through the National Center for Construction Education and Research (NCCER). Parker completed his welding training in spring 2019, earning NCCER CORE and NCCER Welding levels 1, 2 and 3 credentials. He credits his training and credentials with giving him a head start in his welding career.

"Once I finished up at SVHEC I applied for an apprenticeship through the Boilermakers Union out of Richmond. The welding certifications I earned in school really helped me get to the front of the line in the apprenticeship. I didn't have to wait very long before I was indentured and started even more training," he said.

Since then, Parker has continued to advance in his welding career. Today, he enjoys a well-paying position that allows him to travel and work on a variety of projects. "I've been through two welding 'boot camps' now for 6+ weeks each time and have passed weld tests for SMAW, GMAW, and GTAW for contractors at different jobs. Being in a union I get really great wages and benefits, plus I get to travel a lot. I just finished up a job in Texas working for APCom."

Welding@SVHEC changed Parker's life and he encourages others to consider the program and a career in welding.

"I would certainly encourage others to give this program a shot, whether they have experience welding or none whatsoever like I did. The program is not only an awesome way to learn, but the facility and welding machines/equipment were top notch. Another important thing is that it is affordable. I took the course at night and was able to work every day before I went in. If anyone has doubts because they think it's too expensive, definitely ask about scholarships and grants. It was a defining factor for me. Without the options that were available to me I don't think I would have been able to do it."

Welding@SVHEC is a 10-month, hands-on training program at the Southern Virginia Higher Education Center in South Boston, VA. Training leads to industry recognized credentials, and financial assistance is available.

---
For more information, contact Jermaine Gooden, SVHEC Trainee Engagement Specialist at 434.572.5593, email , or visit www.svhec.org/welding.