Connecting Students to Careers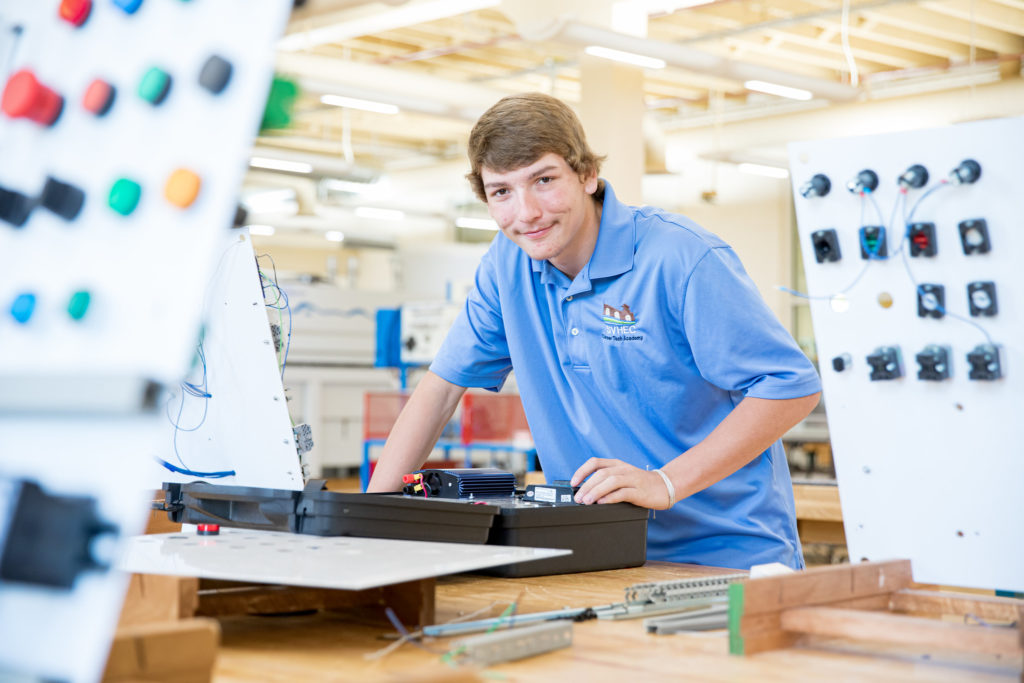 The Career Tech Academy (CTA) at SVHEC offers technical training programs to 11th and 12th grade students from Halifax, Charlotte and Mecklenburg Counties. In its second year, the program is designed to prepare students for careers in information technology, mechatronics and automation robotics. With its work-based learning program, CTA gives second-year students an opportunity to obtain paid work experience as apprentices, while receiving valuable on-the-job training and classroom instruction.

Jared Dawson, one of the program's first student apprentices, is a senior at Halifax County High School (HCHS) and a Level 2 Work-Based Learning student. He earned an apprenticeship at SVHEC's R&D Center for Advanced Manufacturing and Energy Efficiency (CAMEE).

"We base the internships/apprenticeships on the particular program students completed at level 1," said Quiana Clark, CTA instructor. "Jared played a major part in the preparation for last year's Christmas parade while he was in the mechatronics program, using the machines located in R&D. With that in mind, he seemed like the perfect candidate for the program."
Dawson attends HCHS classes in the mornings, then comes to the SVHEC at noon each day. Mondays and Fridays, he attends CTA classes until 3:15 p.m. and Tuesdays, Wednesdays and Thursdays are spent at R&D CAMEE until 4 p.m. While there his job duties include working with computer numerical control (CNC) machinery, which is the automated control of machining tools and 3D printers by means of a computer.
"I program the machines and do a lot of the hands-on work, which is my favorite part," said Dawson.
Since his apprenticeship began, Dawson has helped worked on parts for a stapler tool that R&D produces, assisted in making a seat for TMI Auto Tech, and produced trophies for Virginia International Raceway. It is work that he calls challenging and fun and hopes to make a career of someday.
"I would like to keep working with CNC machinery," he said. "I'd like to get my master's and go forth from there. I highly recommend the Career Tech Academy and the apprenticeship program to other students."
"We want to show students and parents that they have an array of options available to them while still in high school," said Clark. "The ultimate goal is to introduce the new workforce to employers and begin building a relationship with the businesses and the community that we serve.
"We are partnering with local businesses who are interested, educating them on the benefits of apprenticeships and assisting them in getting the process started to becoming a registered sponsor for the program next year," Clark continued. "We hope to hold job fairs to introduce the students and the businesses, and to start the application and interview process."