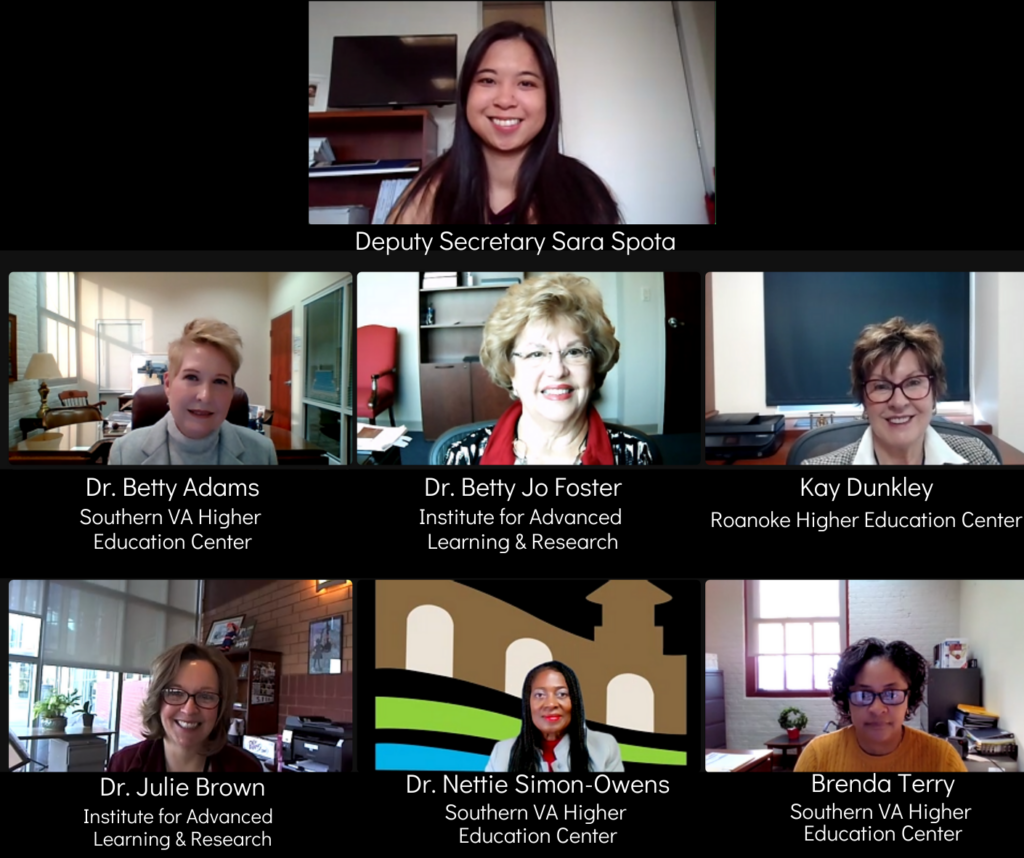 Sarah Spota, Virginia's new Deputy Secretary of Education, joined the Commonwealth's higher education center leaders for their recent bi-monthly meeting.
The directors of the Institute for Advanced Learning & Research (Danville), Roanoke Higher Education Center (Roanoke), Southern Virginia Higher Education Center (South Boston) and Southwest VA Higher Education Center (Abingdon) provided Deputy Secretary Spota with an overview of their organizations and highlighted the innovative work each is doing within their service areas.
Virginia's Higher Education Centers are essential to the continuing education of the Commonwealth's workforce and offer programs that range from industry-certified credentials to doctoral degrees. Collectively, the five higher education centers serve 44 localities, engage more than 30,000 learners, and have an economic impact of over $150 million dollars.  
Deputy Secretary Spota stated that the work being done by the higher education centers is innovative and "incredibly impressive."
She shared that Secretary of Education Aimee Guidera is committed to visiting each center and ensuring that southern and southwest Virginia feel included and will be a priority over the next four years.
Deputy Secretary Spota went on to share some of the Youngkin administration's priorities for education including laboratory schools and supporting skill development. She ended her remarks by reiterating the administration's support of the higher education centers and pledging a channel of open communication.