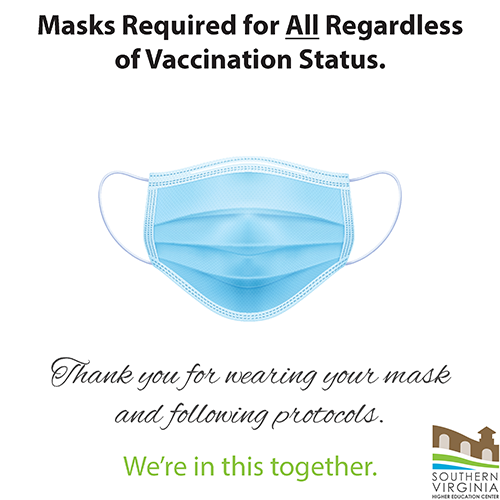 As of August 2, 2021, SVHEC is requiring masking for all individuals regardless of vaccination status. This is a universal masking policy with no exceptions. The indoor masking policy is being reinstated to protect students, staff, instructors, partners, and visitors from COVID-19, including the Delta variant, which is reported to be 1-2 times more transmissible than the original virus and the next most transmissible variant, Alpha. Delta is estimated to be the source of 83% of all COVID-19 cases. 
While vaccines are very effective in protecting against COVID-19, including the Delta variant, most in our area are not vaccinated. Only 37% of Halifax County citizens are fully vaccinated, and levels of community transmission in Halifax and surrounding counties currently are at the highest level (https://covid.cdc.gov/covid-data-tracker/#county-view). In some rare cases, Delta has infected even the vaccinated, though these infections are usually less serious, sometimes asymptomatic. In these cases, even vaccinated people can spread the virus, which is why it is important for vaccinated people to mask in certain settings. 
To learn more about SVHEC's COVID mitigation strategies visit Living with COVID-19.