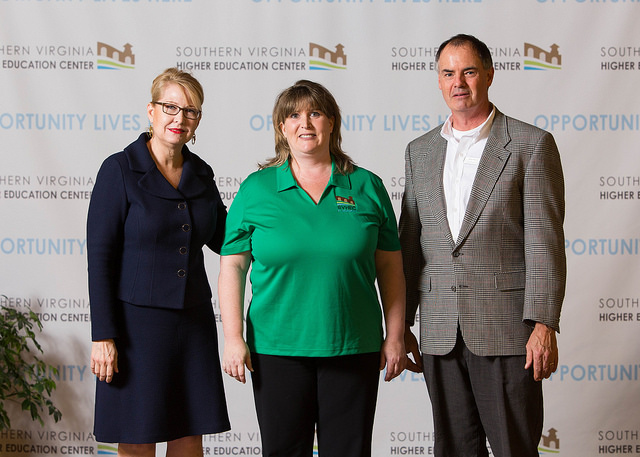 Donna Conde moved from New Jersey to Halifax County in 2014 after experiencing some personal issues. "I immediately started my search for employment since I had always worked since the age of 10." A quick job didn't come to her, and nearly 18 months later she was still unable to find work. Conde turned to social services for assistance for her and her school-aged daughter. It was there she overhead a gentleman talking about the IT Academy (ITA) at the Southern Virginia Higher Education Center (SVHEC).
The conversation sparked her interest because she'd always loved computers and had worked in IT for 20 years in New Jersey learning through on-the-job training. " With no luck finding a job in Virginia I knew I needed more education, and the IT Academy seemed like a perfect fit for me. When I left social services, I went right to the SVHEC and spoke with Kelly Shotwell [ITA program coordinator]."
After speaking with Shotwell and learning more about the ITA program, Conde was excited and saw an opportunity to turn her situation around. However, the program's costs, $2,700, threatened to send her back to square one. "I hadn't been working in years, and was depending on family for support. The cost was a major issue," Conde said.
The IT Academy, and other SVHEC workforce training programs, are not eligible for federal financial aid because they lead to an industry recognized credential and not a college degree. Fortunately for Conde, the General Assembly passed the New Economy Workforce Credential Grant Program (NEW CGP) in 2016, providing financial assistance for individuals pursuing in-demand, hands-on workforce training programs like mechatronics, welding, and the IT Academy. For approved individuals, NEW CGP funds provide up to two-thirds of the cost of training making training and certifications more accessible than ever before.
"I applied for the CGP Program funding and was ecstatic when I received help," said Conde. She enrolled in the IT Academy, and began classes in August 2016.
Over the next four months, Conde attended classes three nights a week and received hands-on instruction in PC diagnosis and repair, cable termination and testing, and server configuration. She tested for her industry-recognized CompTIA certifications in A+ and Server+ using the SVHEC's PearsonVUE Assessment Center. "With the excellent guidance of Kelly Shotwell and Aaron Chandler I obtained two critical certificates from CompTIA which allowed me to be in position for IT employment. I graduated in January 2017. The program offered a job fair which was extremely beneficial because it allowed IT professionals to learn about our program and to be interested in hiring graduates," Conde stated.
In February 2017, Conde received the sweet words she'd been waiting to hear since moving to Virginia—You're Hired. "I was offered a position with HPE Enterprises/DXC Technology. I was extremely excited and called my family immediately. It was a huge stress reliever and I was so excited to be back in the work force," said said.
Today, Conde is gainfully employed in a career she enjoys, and she credits the SVHEC and the CGP program with making it all possible. "If it wasn't for this funding allowing me to enroll in the Southern Virginia Higher Education Center's IT Academy I'm sure I would not be employed and not sure if I would even still be able to live in the area. Halifax County is a rural area without much opportunity for employment, but the SVHEC has programs to teach what is available and in demand in our county."