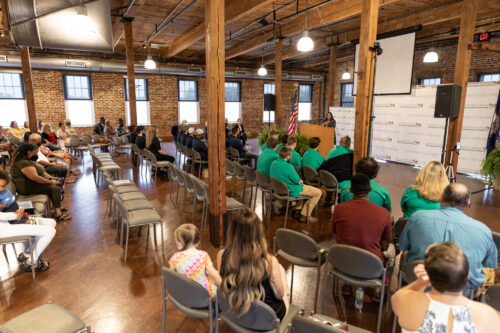 With a smaller crowd and some masked faces, the Southern Virginia Higher Education Center (SVHEC) returned to The Prizery for its first in-person Workforce Training Completion Ceremony since 2019. Work obligations, scheduling conflicts, and an impending summer storm impacted the July 13th ceremony's attendance, but none of those things dampened the celebratory mood as SVHEC recognized 90 individuals who successfully completed a hands-on training program in HVAC, Information Technology, Welding, or employer-sponsored customized training.
"I can't tell you how wonderful it is to finally be back in person for this ceremony," said SVHEC executive director Dr. Betty Adams. "I want to say how proud we are of you for sticking with your programs. You had to make some sacrifices but you stuck it out and we are so proud of you," she said.
Joey Chandler, Regional Factory Manager for Hitachi Energy, served as the ceremony's keynote speaker. Chandler delivered an engaging and relatable message as he told the completers about his humble beginnings in Mt. Airy, North Carolina, and shared the successes, setbacks, and advice that allowed him to have a rewarding career in manufacturing.
"I was born into a family with a lot of love and no money. Most of my family worked in either textile factories, tobacco fields, carpentry or all of them just to make ends meet. I have literally worked from the time I was old enough to carry a stick of wood," he said.
Chandler was one of the few in his family to graduate high school. He went on to attend Surry Community College where he earned an Associate's degree in CNC Machining. In 1998, Chandler was building a solid career in manufacturing when the plant where he worked closed, leaving him and 8,000 other employees looking for jobs. Chandler was fortunate to quickly land another job and in 1999 was hired by ABB-Bland (now Hitachi Energy-Bland).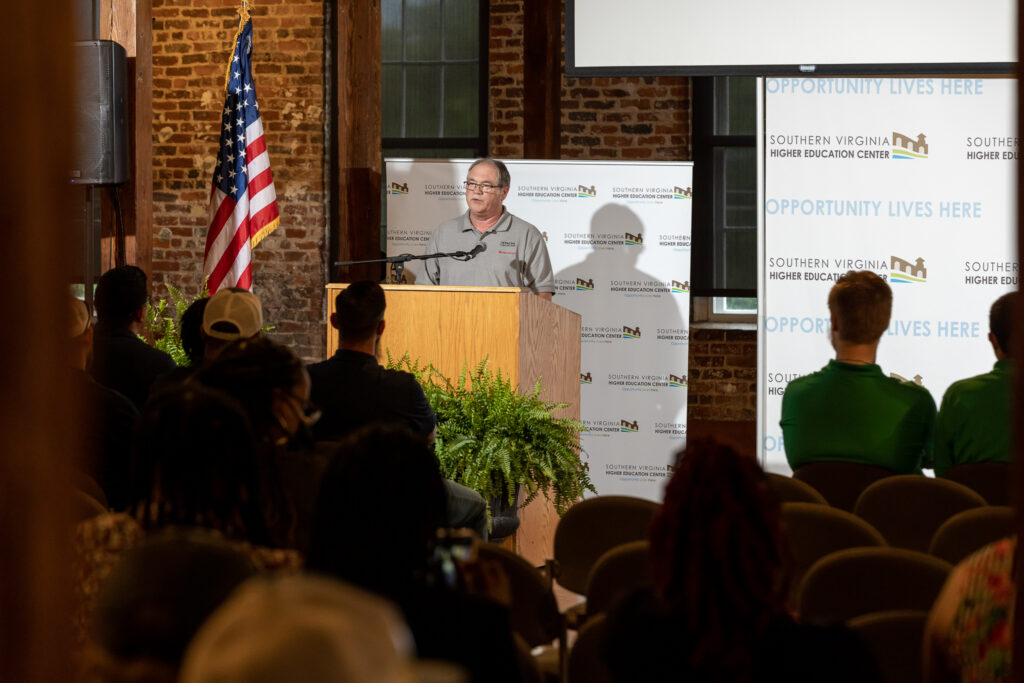 "I started my career there as a junior manufacturing engineer—all with an associate's degree. I managed to get several promotions over the next seven to eight years including manufacturing manager of the plant."
In 2007, the plant manager informed him that he'd been promoted as far as he could without a college degree. "At that point I had a decision to make. Did I really want to put in the work to go back and get a four-year degree or just stay where I was? At that point in my career I could've been very happy with the accomplishments I'd made. I had a good job and a good career."
Ultimately, Chandler decided to return to school as a working adult, and earned a Bachelor's degree in Industrial Technology from Old Dominion University. In his current role as regional factory manager, he has responsibilities for Hitachi Energy's South Boston and Bland facilities.
"I tell you these things not to boast about my own career but to demonstrate that you don't have to have an Ivy League university degree or a four-year degree from anywhere to raise a family, earn a good living, live a comfortable life or to have career opportunities come your way. You simply have to show up at work every day, whatever that work is, and be part of the solution not part of the problem. It's that simple," Chandler stated.
He went on to share tips for success telling completers not to expect instant gratification, be patient, and to stay focused on being their best selves. He also offered practical advice such as joining a 401K when one is offered and reminding listeners that "It's not what you make, it's what you keep."
The Workforce Training Completion ceremony also featured student speakers who shared brief remarks on how the programs have impacted their lives. IT Academy completer Travis Howerton shared that when he enrolled in the program as a recent high school graduate he wasn't sure where life would take him, and doubted whether he had the ability to make it in any career.
"Despite this, I enrolled in the IT Academy after hearing about the program's reputation of helping students get jobs at Microsoft and finding success in the IT field. Little did I know this would end up being one of the best decisions I would ever make in my life. I not only gained amazing IT skills that I use today, but I also gained the confidence I was lacking."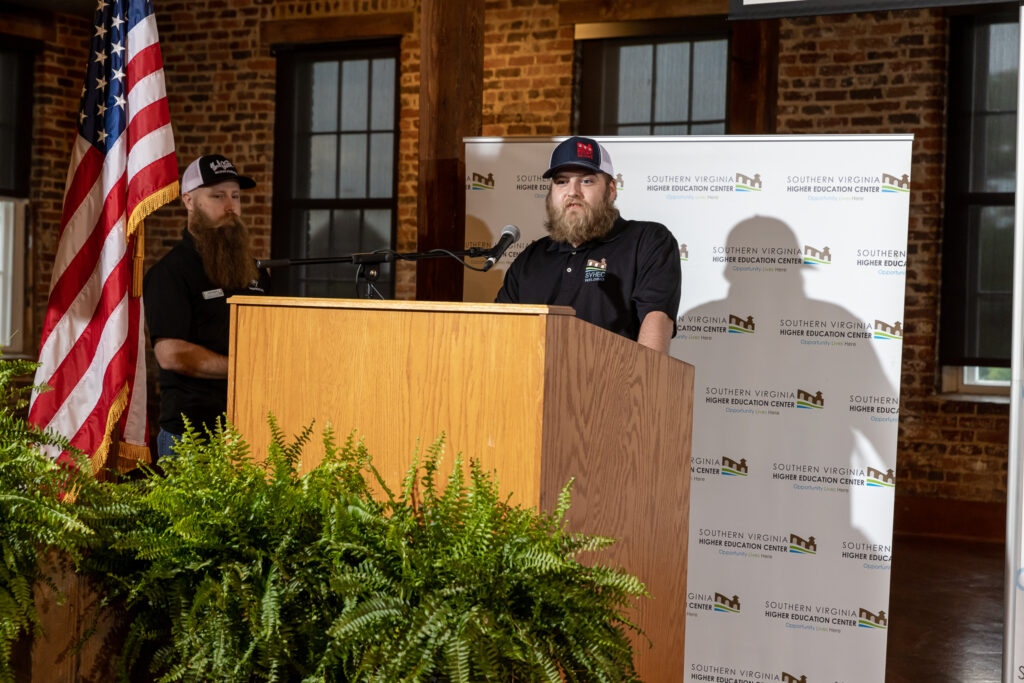 HVAC completer Vernon Boyd recounted that his first introduction to the trade was as a teenager helping his uncles during the summers and on weekends. Over the years they encouraged him to pursue a career in HVAC, but he resisted. Finally, while reading the newspaper in June 2021, Boyd saw an ad for the SVHEC's HVAC program and decided it was time to heed his uncles' advice.
"I knew that it was going to be hard working full-time and going to school three nights a week but I was willing to make it work." He successfully completed the training and earned several industry recognized credentials including NCCER HVAC Levels 1&2, OSHA 10, and an EPA-608 Refrigerant card.
Welding completer Charles Barksdale stated, "The welding program here is really special. It's a great opportunity for young people, or people of any age, looking for a career change. You can come to our program with little to no knowledge at the beginning and then come out of the curriculum prepared and ready to take a job in the trade. Going through the welding program is one of the best choices I've made."
This year's completion ceremony also recognized 32 individuals who completed an SVHEC customized training for Hitachi Energy's new hires. The New Hires training is a one-week, 21-hour, training program that prepares Hitachi Energy's new employees for long-term success.
Workforce Training at the Southern Virginia Higher Education Center is hands-on, credential based training that can be completed in less than a year. Real world projects and employment success skills are embedded into the training programs to help trainees achieve long-term career success. Enrollment is currently open for upcoming training in HVAC, IT, and welding.