SVHEC Workforce Development recently delivered 120 hours of hands-on, customized training for nine Boxley employees. Based in central and southwestern Virginia, Boxley provides materials for construction and infrastructure projects including the production of asphalt, concrete, and slate products. SVHEC staff worked with Boxley management to develop a training solution to give the company's equipment operators the ability to troubleshoot and make repairs in the field to shorten downtown and lost productivity.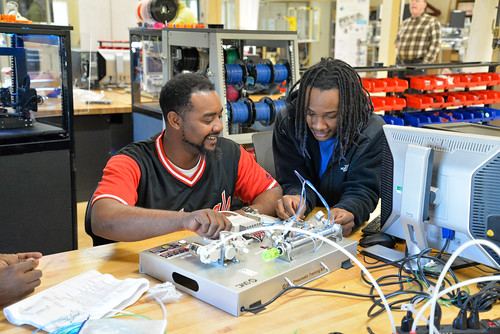 "To troubleshoot equipment breakdowns, you've got to have an idea of how it works," said Ricky Gordon, SVHEC Mechatronics Program Lead. Gordon visited the company, saw the equipment employees were using, and used that to develop and deliver three 40-hour training modules covering electrical, mechanical, and fluid power.
The three-week training took place at the SVHEC and on-site at one of Boxley's facilities. Gordon worked to ensure the learning experience was hands-on and employees would be comfortable applying their skills on-the-job.
Training participant Latosha Mabins, of Nathalie, VA, drives a distributor truck for Boxley and is the only female on the travelling crew. According to Mabins, the truck she operates has hydraulic hoses, pumps, gears, electrical cylinders, lots of parts that she has gained information to help troubleshoot and fix.
"The most valuable aspect for me would have to be learning the way electrical and hydraulics work," she said, "and learning the way to troubleshoot in order to find problems. I really enjoyed the hands-on simulators, it was good to be able to actually put your hands on the modules to figure the problems out. I plan on using what I've learned as safely and as productively as possible."
Another training participant, Adams Epps of South Boston is a loader operator. "I've learned quite a bit in this training," he said. "Honestly, all of the classes were good because I learned quite a few things in each one. Now, if our equipment breaks down I'm hoping to have a much broader idea of how to go about fixing it."
With over 25 years of teaching under his belt, Gordon was impressed with the level of engagement shown by the trainees. "Everyone in the class wanted to be here, and wanted to learn. They were all involved in the program, wanted to do the hands-on learning, and were comfortable enough in class to ask questions. I was impressed with everyone, and enjoyed the teaching experience," Gordon stated.
Workforce Development at the Southern Virginia Higher Education Center develops collaborative relationships with employers and other organizations and can customize training for incumbent workers that meet employers' specific training needs. For more information on customized training opportunities contact Scarlett Brandon, SVHEC Employer Outreach Specialist at 434-572-5473 or email .