Heeding Gov. Northam's call for personal protective equipment, SVHEC and Southside VA Community College donated more than 100 masks and 77 boxes of gloves to Sentara Halifax Regional Hospital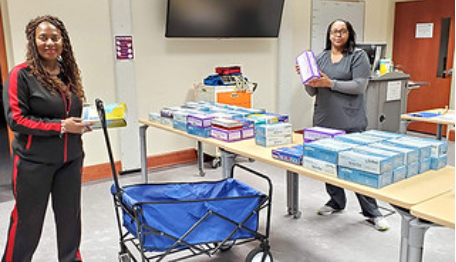 As COVID-19 continues its spread across the Commonwealth of Virginia, the medical community's call for personal protective equipment (PPE) has grown louder. Staff at the Southern Virginia Higher Education Center (SVHEC) have responded by connecting with instructors and partners at Southside Virginia Community College (SVCC) to donate PPE originally purchased for hands-on training exercises.
After going through the supply closets for the SVHEC's Center of Nursing Excellence, SVCC's biology and anatomy and physiology classes, and the Welding@SVHEC program, SVHEC and SVCC staff gathered more than 100 masks, 94 gowns, 77 boxes of gloves, face shields, shoe covers, hand sanitizer, and alcohol preps. All items were donated to Sentara Halifax Regional Hospital.
"We've been truly touched by the generosity of our community during this time. We appreciate SVHEC and SVCC remembering us for their donations," said Faith O'Neil, customer development and marketing consultant with Sentara Halifax Regional Hospital.
SVHEC's Center of Nursing Excellence Manager and Director of the Southside Area Health Education Center, Ferren Pannell, was especially sensitive to the call for PPE. Pannell is a former Intensive Care Unit nurse, and now helps prepare nursing students for healthcare's frontlines through the Center of Nursing Excellence's simulation lab.
"As a Registered Nurse with a public health background, I understand the importance of PPE to protect the health care providers and those relying on us to provide safe care. As a community member, my heart goes out to communities who are suffering from the lack of PPE. I'm encouraged that even in the midst of tragedy, we can still demonstrate genuine compassion, dedication, and kindness. In numbers we are powerful," Pannell stated.
Karen Fisher, SVCC instructor of biology and anatomy and physiology, is now finishing the semester online because of COVID-19 closures. When she received the request to gather PPE that could be donated to the local hospital, she immediately came back to campus to help. "I just wish there was more I could do for the healthcare providers. I really appreciate the sacrifices they and their families are making during this global crisis," Fisher said.
Governor Ralph Northam has issued a state-wide call for personal protective equipment. For more information on making a donation to regional hospitals please contact:
Sentara Halifax Regional Hospital by emailing
SOVAH Health Danville by calling 434-799-2100.
VCU Community Memorial Hospital ( South Hill, VA) by calling (434) 584-5893 or visiting
https://www.vcuhealth.org/news-center/news-story?&news=1612.