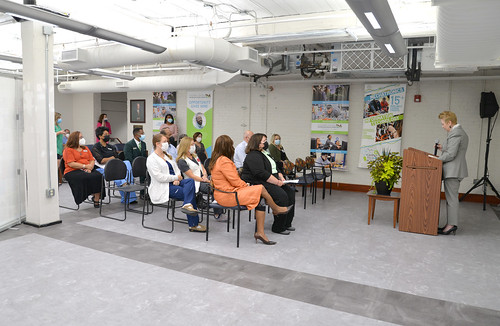 After a year of planning and securing funding, the Southern Virginia Higher Education Center (SVHEC) unveiled its updated Center of Nursing Excellence with a soft opening on Wednesday, July 27th. The SVHEC spent $500,000 to update the manikins and audio/visual equipment used for healthcare education and hands-on training.
The Center of Nursing Excellence (CNE) was launched in 2008 and celebrated a decade of operations in 2018.
"For 14 years the CNE has established itself as an educational workhorse and powerhouse. It survived the Great Recession and the pandemic without missing a beat, yet we had no major upgrades since it was first launched in 2008," said Dr. Betty Adams, SVHEC executive director.
"But now, thanks to a very generous group of donors we have been able to give our workhorse a makeover and for that we are very grateful," she continued.
Key funders of what SVHEC called the "CNE Refresh Initiative" were Sentara Healthcare, the Tobacco Region Revitalization Commission, the Southern Virginia Higher Education Foundation, Microsoft Corporation, and the Chastain Home for Gentlewomen. Thanks to their generous donations and grant funds, SVHEC was able to purchase eight new manikins with enhanced realism in age and racial diversity. The CNE also replaced its server-based AV equipment with a new Laerdal cloud-based system that provides greater recording and playback capabilities.
Together, the new equipment allows CNE staff to provide expanded training in areas that include resuscitation training, pediatric patient care, emergency patient care and trauma, nursing care, and obstetrics and gynecology.
"Annually, the CNE provides more than 7,000 hours of training to almost 200 individuals. We support a wide variety of programming including Certified Nurse Aide, Practical Nursing, Associate's Degree Nursing, Phlebotomy, Emergency Medical Technician, Advanced Cardiac Life Saving, Pediatric Advanced Life Saving, and professional continuing education, re-certification, and re-licensure," Adams shared.
Following remarks from Dr. Adams and Kimberly Throckmorton, CNE Manager, guests were guided on a tour of the CNE with demonstrations of the new manikins.
Sentara Halifax Regional Hospital president Brian Zwoyer had a positive reaction to the tour and stated, "Part of our role is not just to provide acute healthcare to the people who live here, but also to make it better for years to come. We're thrilled that we could be a part of this. It's a magnificent facility and resource and we're happy to partner."