The Southern Virginia Higher Education Center (SVHEC) Board of Trustees welcomed five new members at its recent meeting: Jeffrey Davis, Sheri McGuire, Stanley Jeffress, Dr. Jerry Wallace, and Grey Watson.
Jeffrey Davis, Stanley Jeffress, and Grey Watson are new appointees of Governor Glenn Youngkin. Each has been appointed to serve a four-year term with the option of reappointment at the governor's discretion.
"These are all people who have given much to our community and proven their leadership in the community. We're so fortunate that they're willing to serve on this board," said SVHEC Board chairman Dennis Witt.
Dr. Jerry Wallace and Sheri McGuire are coming to the Board of Trustees as representatives of institutions who hold permanent board seats. As the president of Danville Community College, Dr. Wallace will serve on the board for as long as he holds the position. Similarly, Mrs. McGuire will be representing Longwood University. She is replacing retiring board member Dr. Ken Perkins, who has served as Longwood's board representative for a decade.
Witt welcomed Dr. Wallace and Mrs. McGuire by stating he looked forward to working with them and having their perspective on the board.
About the Board Members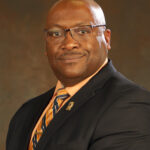 Jeff Davis is a Halifax County native and the Director of Human Resources for Halifax County Public Schools. A career educator, Davis has held a number of positions within the school system including teacher, assistant principal, Director of Special Education and Director of Student Services. He plays an active role in the community serving on a number of boards and associations including president-elect of the Halifax County Chamber of Commerce Board, member of the Omega Psi Phi Fraternity, Inc., and chairman of the official board of Union Grove CME Church.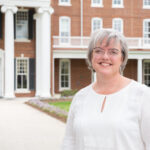 Sheri McGuire serves as the Associate Vice-President for Community and Economic Development at Longwood University where she coordinates and connects research, services, and projects supporting regional economic development initiatives. A key aspect of her role is directing the activities of the Longwood Small Business Development Center which serves small business communities in 25 localities in Southern and Central Virginia.
One of McGuire's current projects is co-directing the development and implementation of the GO Virginia Region 3 Entrepreneurship and Innovation Investment Strategy and coordinating the development of an innovation hub in Downtown Farmville. She is a 2016 graduate of LEAD Virginia, and has served as a board member and president of the Farmville Downtown Partnership.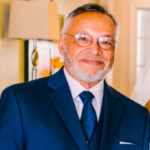 Stanley Jeffress has been a fixture of the Halifax County business community for over 40 years, serving as manager and lead director of Jeffress Funeral Home-South Boston and the Crawford House Chapel in the Town of Halifax. He is now semi-retired from those positions, but actively engaged in S.L. Jeffress Co, a privately owned holding company where he serves as president. Jeffress is also active within the community and has served on numerous boards and community organizations including Sentara Halifax Medical Affairs Committee, Halifax County Chamber of Commerce Board of Directors, Danville Community College Advisory Board, and the Halifax County Public Schools Education Foundation Board of Directors.
In 2005, Jeffress received the "Member of the Year" award from the Halifax County Chamber of Commerce and the "Community Service Award" from the Halifax County Business and Professional Council.
Dr. Jerry Wallace is the seventh president of Danville Community College, and began his duties on July 1, 2022. He comes to Southern Virginia from the Midwest, where he was the campus president of the Hastings Campus of Nebraska Central Community College. Dr. Wallace has built an impressive career in education serving in various capacities within K-12 and higher education in Michigan, Texas, and West Virginia. His professional accomplishments include being awarded over $1.5 million in grants to support new programs, paid student internships, registered apprenticeship programs, increased job placements for graduates, and building academic pathways to employment. Dr. Wallace previously served on the American Association of Community Colleges' Commission on Economic and Workforce Development.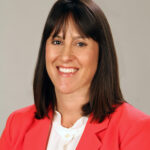 Grey Watson is currently serving as Executive Director of Business Operations, West Division, for Sentara Ambulatory Services Division. She has held several leadership positions within the Sentara/Halifax Regional Health systems including Executive Director of Sentara Dominion Health Medical Associates, and Manager of Physician Services. Watson is the past chair of the Halifax County Chamber of Commerce Board of Directors, member of GO Virginia Region 3's Young leaders Advisory Committee, and was one of the tri-chairs for the County-wide Strategic Planning Effort. She is a member of the American College of Healthcare Executives and Medical Group Management Association.

The Southern Virginia Higher Education Center's Board of Trustees is made up of business and community leaders who are devoted to Southern Virginia and to the belief that education is the catalyst for change.