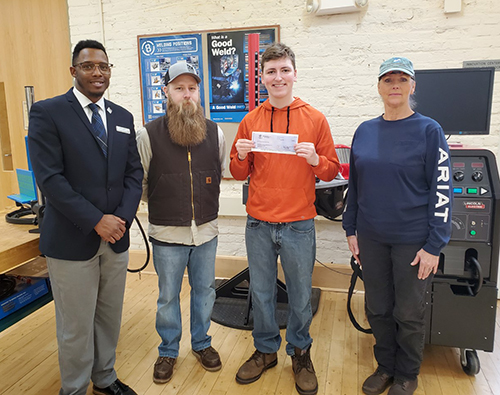 Welding@SVHEC student Nathan Thomas was recently awarded a $1,000 scholarship from the American Welding Society (AWS) Foundation.
The AWS Welder Training Scholarship is for students seeking welder training in a certificate program less than two years in length.
Thomas expressed relief when accepting the scholarship funds, stating that it will help as he moves forward with his training. "The scholarship has benefitted me greatly. We're not exactly rich by any means, and I was kind of concerned about how we'd go about paying for the class. I was looking for part-time jobs and stuff like that, so it definitely helps."
Thomas researched many career options before deciding to try welding, citing a predicted shortage of welders as an opportunity. According to AWS, there is a massive shortage of skilled welding professionals in this country, with older workers retiring out and not enough younger workers to replace them. Several industry estimates have the welder deficit eclipsing 200,000 in 2020 and hitting nearly 375,000 by 2026.
Thomas will complete the Welding@SVHEC program June 2020 after which he hopes to begin his career locally. "I hope to get a job in this area. I've been here about a decade, and I really like the South Boston community," he said. Thomas went on to say that he's already had several companies express interest in him once he finishes his training.
When asked what he likes best about Welding@SVHEC he quickly responded, "I like the experience of welding," he said. "And I like the people – Geoff and Karen (Welding@SVHEC instructors) — and my fellow classmates, they're all just really nice people. The program has given me a lot of opportunities." 
Welding@SVHEC is a short term, accredited training program providing individuals with instruction in MIG, TIG, stick and pipe welding. This non-credit program is accredited by the National Center for Construction Education and Research (NCCER). Individuals who successfully complete the program earn several industry-recognized certifications.

For more information, visit call 434-572-5593 or send us a message here.