SVHEC Virtual Completion Ceremony
SAVE THE DATE: June 24, 2021
We're excited to announce a partnership with StageClip to hold our very first virtual completion ceremony on June 24, 2021! While we miss being in-person, this virtual completion ceremony will honor you and your accomplishments, and allow you to be part of a special online experience.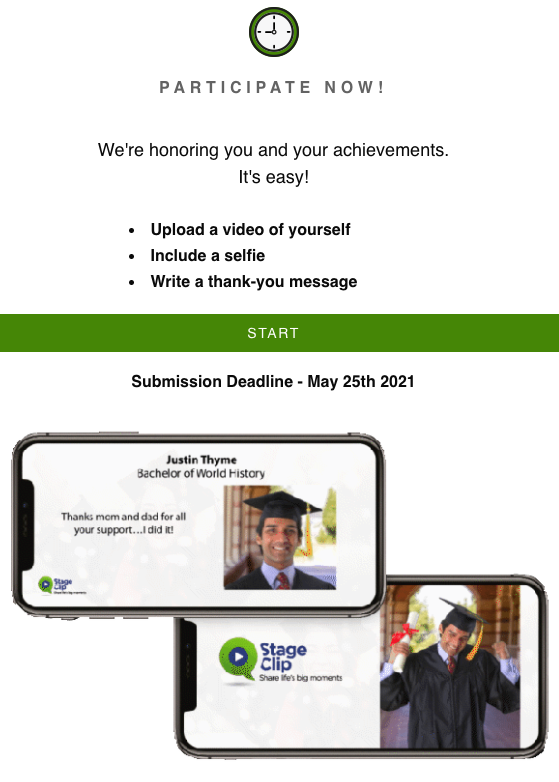 What we need from you
All students invited to participate in the SVHEC's 2021 Virtual Workforce Training Completion Ceremony will receive an email from Meagan Owen (SVHEC's Coordinator of Learner Success).
The email will look similar to the one pictured on the right, and is your individualized link to submit your photo and short video message to be included in the ceremony.
When you receive this email, click the start button to go to your personal landing page and upload your photo and video message.
You'll receive two reminders from Meagan to upload your information. We encourage you to upload your information as quickly as possible. It only takes a few minutes.
What you can expect
Once you submit your information, you're done! Sit back and wait to watch the ceremony on June 24th. To see an example of how our virtual celebration will work click here.
SVHEC is also working with Halifax County's two newspapers to print a special section with completers' names and photos. We'll use the photo you upload so please be sure to submit your information as soon as possible.
On June 24th, you'll receive an email from Meagan with a link to view the Completion Ceremony. We'll also provide a link at the top of SVHEC's website. In the days after the ceremony, Meagan will contact you again with information on how to download your ceremony clip. This clip will serve as a keepsake for you to share with family & friends, or post on social media.
Questions?
If you have any questions or experience any difficulties, we are here to help! Please reach out to Meagan Owen at 434-572-5566 or email .