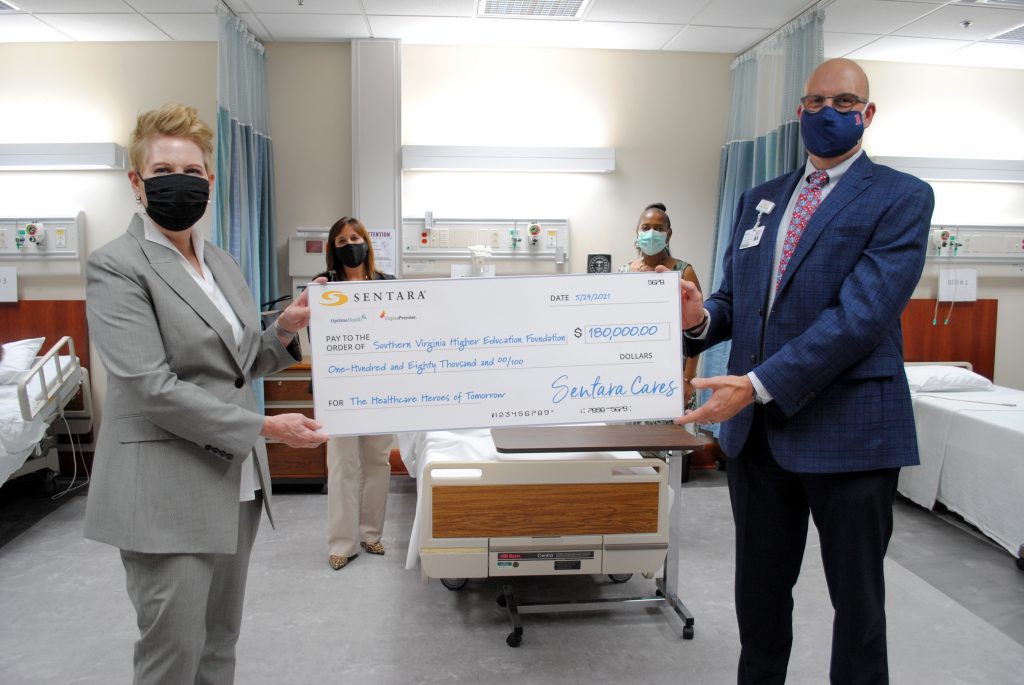 On May 24th, the Southern Virginia Higher Education Foundation was awarded a $180,000 grant from Sentara Healthcare as part of their Sentara Cares program.  Sentara Halifax Regional Hospital's president, Brian Zwoyer, presented the check to Southern Virginia Higher Education Center (SVHEC) executive director, Dr. Betty Adams.
SVHEC will use grant funds to enhance clinical training by upgrading and replacing simulation equipment in the Center of Nursing Excellence.
"The Southern Virginia Higher Education Center (SVHEC) is grateful beyond measure for Sentara's incredible support of the SVHEC's Center of Nursing Excellence (CNE). These funds will allow us to upgrade current CNE simulation equipment, much of which has been in service since the CNE first opened in 2008. This new equipment will provide our educational partners and their nursing students, 99% of whom go on to work in the community, the benefit of honing their nursing skills on the most up-to-date simulation mannequins. This is a real game changer for us," said Dr. Betty H. Adams, SVHEC executive director.
The Center of Nursing Excellence (CNE) was established in 2008 to address the regional shortage of health professionals, especially nurses, by providing access to education and clinical training for health professions students in Halifax and surrounding counties. Sentara Halifax Regional Hospital (then named Halifax Regional Health System) was instrumental in establishing the CNE, and served as a founding funder and supporter.
In addition to providing hands-on clinical skills training, in 2014 the CNE was designated as the Southside Virginia Area Health Education Center (AHEC), with funding from the Virginia Health Workforce Development Authority (VHWDA). The AHEC exists to promote healthcare careers in underrepresented communities. Through this initiative, SVHEC provides outreach to middle and high school students in 15 counties and three cities to expose students to healthcare careers and assist them with pursuing a health career through the AHEC Scholars program.
"We are ecstatic to be able to support SVHEC in their ongoing mission to educate our local students. They play a critical role in training and developing new clinicians to care for our community. Our partnership ensures that we are building future health care professionals as well as serving those who need us the most. I am honored to be associated with this outstanding group of individuals," said Brian K Zwoyer, DNP, RN, NE-BC, president of Sentara Halifax Regional Hospital.
Since opening in 2008, the CNE has served over 2,000 individuals including nursing students at all levels, phlebotomy students, and practicing health care professionals who need continuing education. In academic years 2019 and 2020, the CNE provided health professions students with over 5,000 hours of skills training using simulation equipment and technology. The CNE also provided training facilities and support for over 100 Sentara Halifax Regional Hospital staff members for Advanced Cardiac Life Saving and Pediatric Advanced Life Saving training.